CES 2018 La Vegas: Innovative products and technologies
CES 2018 witnessed lot of innovations and developments in technology. Here we have picked 5 amazing innovative products that were eye-catchers during the show.
LG 65-inch Rollable TV
LG 65-inch Rollable TV showcased at CES 2018 Las Vegas
Rollable display technology is one of the hot topic of the tech world. LG had launched it's first rollable display in 2016.It was 18-inch in size. Now they have come up with a Rollable OLED TV with a size of 65-inches and 4K resolution. During the show LG demonstrated few uses of the rollable TV. On press of a button display rises up from a box.Aspect ratio can be adjusted b/w 6:9 and the cinematic 21:9. This helps you watch ultra-wide movies comfortably.You can also covert it into a simple music player by rolling it down to appropriate size.
Although some flexible display concept were shown at past CES shows , this is the first one that's flexible enough to roll up into tube form.
Technology use in this rollable TV is organic light emitting diode display (OLED).The box that houses rolled up OLED pannel also accomodates power supply and speakers
LG has not announced it's price or commercial launch. As of now it is just a prototype.Product may hit the market by end of 2018.
Acer Swift 7:Thinnest laptop in the world
Acer Swift 7:Thinnest
This year at CES show Taiwanese company Acer has come up with the launch of a bunch of new notebooks and gaming laptops. The company has launched the new Acer Swift 7, which is the touted to be the world's thinnest laptop.The ultra-skinny Swift 7 (SF714-51) looks extremely sleek and measures only 8.98mm thick. Originally, the Swift 7 was debuted with a thickness of 9.98mm. SF714-51 is an upgraded version of SF713.
Ultrathin doesn't mean compromising on capabilities.The CPU is powered by a 7th Gen Core-i7 processor, 8 GB RAM and blazing fast 256 SSD Hard disk drive.New Acer Swift 7 features 14-inch touchscreen with narrow bezels. It also has 4G LTE connectivity.Antenna is integrated into it's unibody. The notebook comes with a fingerprint reader and supports face detection through Windows Hello.
Self-driving travel bag
CES 2018 witnessed another funny, same time innovative product self driving travel bag CX-1 luanched by China's
ForwardX
Robotics. It is first of kind for sure. Four-wheeled travel bag can automatically follows its user around the airports and other places.The smart bag uses cameras and AI to avoid crashes.170-degree wide angle lens and built-in facial recognition software, which allow the device to follow you at up to 7 miles per hour throughout the terminal .Smart wrist band will notify if it gets too far away or when the battery power gets low.
Video credits:cnet
Camera for the blind MyEey 2.0 by OrCam
Israel based
OrCam
launched an innovative useful product for blinds. OrCam MyEye 2.0.It is a smart camera about the size of a finger.This product is for blind and partially sighted people, an artificial vision device with a lightweight smart camera that instantly reads text aloud- from any surface – and recognizes faces, products, and money notes in real time.
Samsung launches its first 'modular' TV
Samsunghas kicked off its CES 2018 conference in style by unveiling what can be called it's first ever 146-inch 'modular' TV. Named as 'The Wall',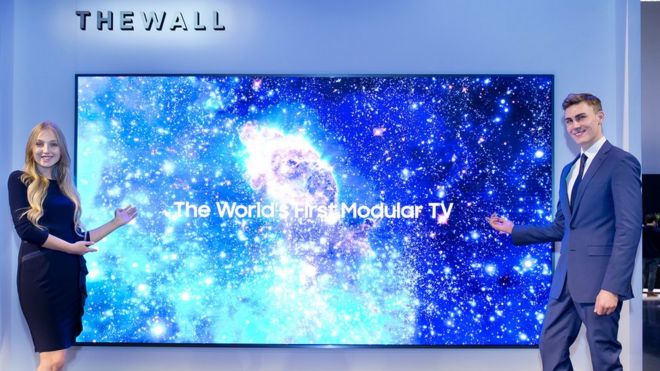 Samsung's 'The Wall' first 146-inch modualr TV
Samsung has kicked off it's CES 2018 show by unveiling first modular TV. They named it 'The Wall'.Display measure 146-inch. The micro-LED TV is said to 'transform in to any size' .
There is no word on the pricing and availability of The Wall by Samsung.Samsung also says its modular technology will allow for TVs of customized sizes to be ordered.The Wall's display composed of many smaller modules that can be arranged to form unusual dimensions .The micro-LED display, its self-emitting LEDs allows a bright picture without the need for a backlight. Since the product is embedded with micro-LED, cost of production would be higher using existing technologies. Samsung has not said anything about or commercial launch yet.