Main attraction of India's fully digital Canara Bank branch 'CANDI' is the customer care robot 'Bro'
Whenever you walk into a Pubic Sector Bank you expect a warm welcome.But,nowadays you hardly find it unless you are an HNI customer having crores of deposits.Customers are complaining about behaviour of bank employees.Each and every customer deserves a warm welcome and better treatment since banks run on their money.Banks are adopting various measures to improve customer service.
Canara Bank humanoid customer assistant Bro at CANDI(Canara bank digital branch)MG Road Bangalore.
Introduction of robots in banks also can be seen as a customer service improvement measures.Recently Canara Bank has launched its fully Digital branch named 'CANDI'(short for Canara Digital) in MG Road Banglore. Main attraction of this branch is a cute robot named 'Bro'. Bro is a smart customer service executive who can answer your queries regarding basic banking services ,products,interest rates etc..Apart from 'CANDI' The bank's head office in Bengaluru already has a 4.5-foot Kannada-speaking robot called Mitra.
Bro and Mitra provide information about the bank's products, lending rates and schemes for students. When everything goes dull,Bro can respond to music beats and shake a leg.
This robot, with a HD camera in its head and the Canara Bank logo on its chest, answers close to 500 frequently asked questions
CANDI from inside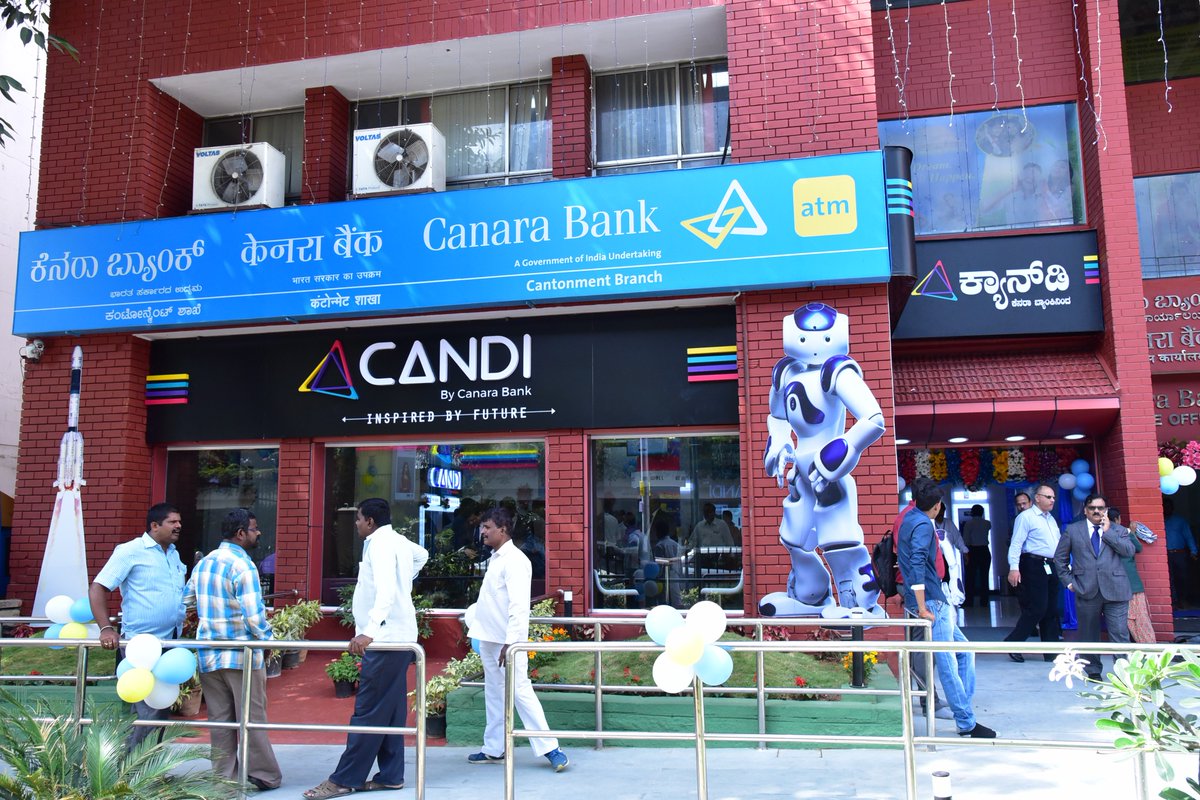 CANDI from outside
How Bro Works
Using voice sensors, it catches keywords in customer voice and responds to their queries. HD camera eyes captures customer movements and positions. Canara bank Officials say Bro will speak more local languages soon. Unlike other humanoids,the robot gestures and engages with customers in a life-like manner.Bro's speech is casual, a change from the more formal style associated with usual robots.The robot was imported and programmed by the bank's digital team.
Canara Bank isn't the only one experimenting with robots as customer assistants.City Union Bank, which launched the country's first banking robot 'Lakshmi' in Chennai in November 2016. .
HDFC Bank launched its banking robot IRA in late 2016 in Mumbai, which greets customers and takes them through the various services.While most robots today largely serve as information kiosks and basic customer assistants, they are likely to be integrated with core banking systems and artificial intelligence soon or later.
Watch video of Bro
Video courtesy Deccan Herald
What are the benefits of this robots to the bank
-Better customer satisfaction
-It is not easy for public sector banks to keep one staff exclusively for customer care service at each branch.Now robots like this cost around 5 lakh. On mass production it will come done to 1.5-2lakh. By deploying robots, number of employees can be cut down and productivity of employees will also improve.
-Cost to keep a robot is much less than salary of a bank staff.
-Young customers will be attracted by innovative services like this.

Watch bro dancing for gannam style


In near future more and public and private players will go for robotic banking. This is also a good chance for startups and other companies in the robotic and artificial intelligence(AI) field.Indian Banks are fast evolving to compete with its global counter-partners. More investments and innovations are expected in digitalization process of bank branches.'Bro' and ''CANDI" are just a beginning.More innovative ideas and solutions will make our banking more easier and comfortable.