Reliance JioPhone features specification dataplans and how to book JioPhone: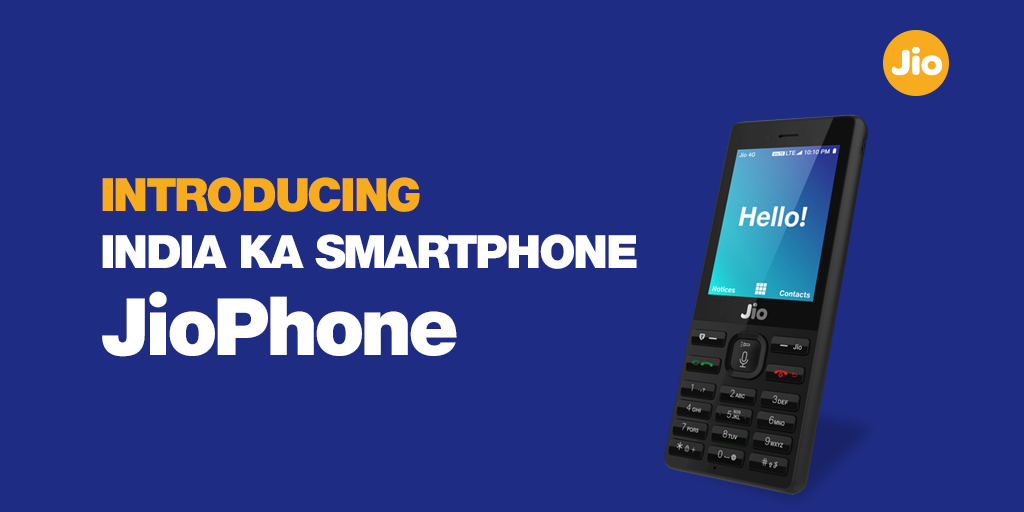 Reliance's free JioPhone aims India's billion dollar-strong market
Reliance jio launched country's first 'free' smartphone for getting more Indian online.Reliance industries chairman Mukesh Ambani announced the official launch of JioPhone on 21 July at reliance AGM 2017.Eventhough phone is taged 'free', buyers has to spend refundable fee of 1,500 rupees ($23.30).
JioPhone will be available for user testing in beta form from August 15.Booking will start from 24th July. JioPhone will be physically available to those who have pre-booked, on a first come first serve basis, September onwards. The company will make available 5 million phones every week . The deposit will be refunded after 36 months on the return of the phone. Voice calling will be free for life while unlimited data packs will cost Rs 153 a month on the device.
Important features of Reliance JioPhone
Quaoting the words of Isha Ambani , Akash Ambani and kiran thomas from Reliance AGM2017.
JioPhone is an awesome innovation,made in India by young Indians for all Indians.JioPhone i may look familiar but it is intentional.It is designed to be extremely easy and friendly to use.It is the most intelligent and affordable phone.
Network:It is 100% 4G LTE phone
User Interface and Languages:It has a revolutionary and unique user interface.JioPhone will support 22 major Indian languages.
Revolutionary Voice command Interface:Still using the keyboard you can simply speak to the phone.You can make calls and SMS using voice command.You can also enter SMS text by simply speaking.Simply intelligent,agreed??.You can even brows internet using your voice.Your search results will also be narrated by phone.Jiophone not only just listen in english,it is capable of understanding other languages also.
Pre-installed Jio Apps:Reliance JioPhone assures unlimited entertainment with preinstalled jio apps like JioTV,JioMusic,JioCinema etc..
JioPhone Life saver(sos):On long pressing button 5 ,JioPhone will automatically send distress message to your dear and near ones.You can save emergency contact to which distress message will be sent.
It also send you exact position(latitude and longitude) to your emergency contact.This is an invaluable feature of the JioPhone.
Very soon jio will integrate local Police and Emergency service to this feature.
JioPhone TV cable:This is useful for remote parts of India where cable TV and high speed internet is not there.Young JIO engineers have developed a special and affordable Jio Phone TV cable that connects Jio Phone with any television screen.Not just smart TVs ,even your old CRT TV can also be connected using this specially designed cables.Simply put, you can project your JioPhone on to big TV screen.
A special monthly plan of Rs.309 is also there for such users.
NFC Digital Payments:JioPhone will be introducing NFC(Near Field Communication) technology soon. All indians can link their bank accounts,Jandhan accounts, UPI accounts or any other payments cards to JioPhone and make payments using simple tap of Jiophone.This feature will be automatically added with phone software updates.
JioPhone Voice and Data Plans
Like any other JIO SIM plan,voice calls are life time free.For JioPhone users JIO DHAN DHANA DHAN plan is available for Rs.153 per month.And for JIO TV cable users there is a special monthly plan of Rs.309.
Jio phone Specification
JioPhone Spec presented at reliance AGM2017 JioPhone Launch event
Reliance Chairman Mukesh Ambani has not yet reveiled complete specifications of JioPhone.But here is the speculations of JioPhone specs.
Display:QVGA 2.40-inch,Resolution240x320 pixels
Expandable storage typemicroSD upto 128GB
SIM slot:Single sim GSM,4G LTE
Connectivity:Bluetooth v 4.10,NFC
512 MB RAM
4 GB internal storage
2MP rear camera
2000mAh battery
How to book a JioPhone
If you are already using a smartphone go to playstore and download MyJIO application.You can pre-book the JioPhone using the My JIO app. If you don't have access ti MyJIO app you can visit a Jio retailer from August 24. It is worth mentioning that theReliance Jio Phone will be up for pre-orders starting August 24. It will be available from August 15th on the first-come-first-serve basis.
The target is to make 5 million phones available every week.
Watch highlights of Reliance AGM2017:JioPhone launch